I found A Long Run really moving...
I loved A Long Run. Thank you so much for letting me be a part of your wonderful journey. I found it really moving, totally inspiring and a meaningful collection of moments in the running history. The Anderson family should be very proud!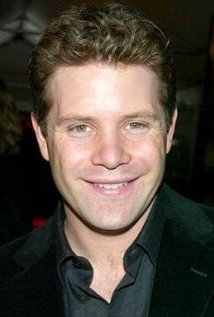 At the end, when you were talking about goal setting, I was excited thinking about my own current goal. I've decided that I am going sub-4 at the Marine Corps Marathon in October. I'm training hard...A Long Run helps me get out the door.
Sean Astin
An American actor, director, voice artist, and producer best known for his film roles as Samwise Gamgee in the Lord of the Rings trilogy, Mikey Walsh in The Goonies, and the title character of Rudy.
---
I would recommend A Long Run to both runners and non-runners alike!
A Long Run is a story of one runner's journey that can truly resonate with runners of all abilities. This unique documentary features Bob Anderson, founder of Runners World, on his quest to run 50 races totaling 350 miles in one year...all while averaging a jaw dropping sub 7 minute pace at the young age of 64 years old!
The beauty of Bob Anderson's 50 race challenge is it celebrates the 47 years Bob has dedicated to the sport, while transforming himself from a 17 year old teen with $100 in his pocket and a vision for the sport of running to a centerpiece in running history.
In addition to the thrilling suspense of whether Bob accomplishes his challenge and the questions that arise..."Will he be able to continue with injury? Can he average under 7 minute pace? Can his body recover in time for each race?"...A Long Run features other pivotal runners, such as Paula Radcliffe, Bill Rodgers, Billy Mills, Gerry Lindgren, Dean Karnazes, George Hirsch, and many more amazing runners ranging from former addicts to elite athletes that have shaped the sport of running into the world wide phenomenon that it is today.
I would recommend A Long Run to both runners and non-runners alike who need an inspirational story about how even the greatest, most challenging feats can be accomplished at any age and with any background.
(Molly Pritz is an elite runner who was the first American female at the 2011 New York City Marathon. Holds the women's world record for the Double Road Race. Won the 2nd Half 2012 San Francisco half marathon in a time of 1:10:45 placing 8th overall.)
---
Terific shots, tight professional editing, good music...
Rhonda and I got home on Sunday from the annual Boston Marathon trip. So to celebrate being home, we sat down last night and watched "A Long Run." We think you really ought to hang onto that Michael Anderson. The raw-hotdog-eating blonde kid did a really excellent job. Terrific shots, tight professional editing, good music--the kid's got it all. (And his own story, woven into the film, was very moving.)
We thoroughly enjoyed it. Our only criticism is the same one I'll bet you have: too much material to shoehorn into 1:55. With so many parallel stories running, everything had to be quick and compacted. On top of which you took on the challenge of adding in smaller stories, like the guy who lost all that weight.
You could have easily added another half-hour and at least spent a little time on some of your other "hair-brained" (at the time) but sublime ideas like National Running Week, the Nurmis, Corporate Cup, the fact that you had a half-dozen other magazines and a book division. Too much good stuff.
It was nice to see Lisa and Rita and Michael in the film. Brought back a lotta memories--enhanced by you being able to tap into and tape so many of the movers and shakers of the time, from Boston Billy and George Hirsh to Billy Mills and Jerry L.
Did you send a copy to Runner's World? They have a very active website that should be carrying word on your swell production. Good luck with this, Bob. It is nice that someone captured all of this before we're all sitting on rocking chairs at The Home slurping Geratol.
(Rich Benyo is an American journalist and veteran distance runner. He is the editor of Marathon & Beyond Magazine, a magazine devoted to marathon and ultramarathon running. He is also the former executive editor of Runner's World Magazine, and Anderson World Books, Inc. Benyo is the author of 17 books and has written extensively about running, health and fitness. Rhonda is Rich's wife who is also a writer and an accomplished ultra runner.)
---
Running saved by brother's Life:
I am so proud of my Dad Bob Anderson and my brother Michael Anderson! When these guys put their mind to something, they don't just talk about it... They DO IT! My Dad and Mike set out to make a film about my Dad's 1 year 50

...

race challenge.... It evolved into an awesome, inspirational look at running and setting goals through the eyes of my Dad and thousands of other runners from all over the country. From actor Sean Austin and running great Bill Rogers to my brother's story of addiction and how running saved his life. I hope you get a chance to see this!
(Lisa Anderson-Wall has been running since she first could walk. She has run the Big Sur Marathon and many other races including the Pacific Grove Double Road Race, a new sport created by her father Bob Anderson and highlighted in A Long Run.)
This story is inspiring...
One of my favorite mottos is "the genius is seeing it in the seed." Bob Anderson saw the potential of the sport of running before most others did.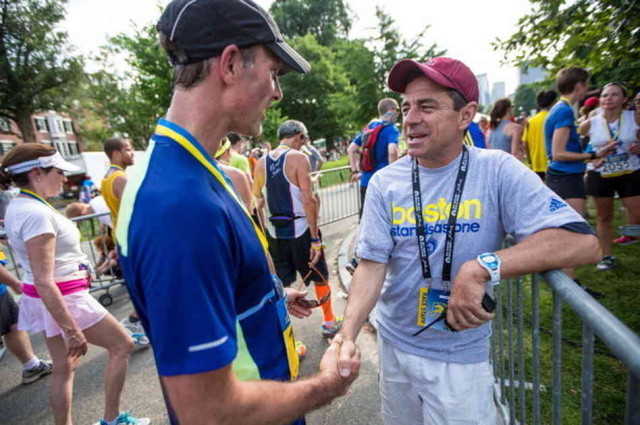 He was and still is a pioneer in our industry. We all owe him a debt of gratitude for having the guts to be a leader of an industry that many considered just for "seasoned" veterans in the sport. Because of pioneers like him, now look at our sport. The walls of intimidation have crumbled because of people like Bob. In watching A Long Run, you readily see the impact and influence Bob has had on our sport over the years. This story is inspiring, motivational, educational and simply makes you want to go out the door and do a run…and a real "long run" at that.
Dave McGillivray
Boston Marathon Race Director
Author of The Last Pick
In 1978 he ran across America
---
I knew I was going to enjoy myself:
All runners will love A LONG RUN. You can't fake honesty about running to runners, and the film and Bob Anderson's 50 race challenge are all about honesty. And seriously, please tell Michael how much I enjoyed his direction. I knew from the very first shot of the film that I was going to enjoy myself.
(Pete Magill is a senior writer and columnist for Running Times magazine, the oldest American to break 15 minutes for 5K, with a 14:45 at age 49, and co-author of the soon-to-be released book Build Your Running Body.)
---
A Long Run brings back memories...while inspiring those just starting out:
Imagine running 50 races in the course of one year averaging under 7:00 minutes per mile for 350 miles of total racing. This would be an extraordinary feat for any runner but for one 64 years old, it's just astonishing.... That's exactly what Bob Anderson, the founder of Runner's World, has done.
In his movie A Long Run, he not only takes us through his year long journey to accomplish this but does so in a most compelling fashion. He enriches his own saga with many of the stories of the Running Boom often told by many of the sport's greatest heroes including Bill Rodgers, Paula Radcliffe and Billy Mills. This film weaves it all together in a way that will bring back memories for the old time runner while inspiring those just starting out."
(George Hirsch is a magazine publisher, a founder of the New York City Marathon, he was the founder of The Runner and then was the publisher of Runner's World. He is currently the chairman of the board of the New York Road Runners.)

---
I was not prepared for how much I was going to love this film!
Just watched A LONG RUN last night, the film that follows Bob Anderson's 2012 quest, at age 64, to run 50 races totaling 350 miles at an average of sub-7 minute pace--and also tells the story of how Bob took $100 and his passion for our spo
rt and turned it into Runner's World magazine, helping to launch the Running Boom.
And I have to tell you, I seriously wasn't prepared for how much I was going to love this film! But I did. From the opening scene of a boy running down a long asphalt road through Kansas fields through the many candid interviews with the icons of multiple running generations--Billy Mills, Gerry Lindgren, Joe Henderson, Bill Rodgers, Paula Radcliffe, even Dean Karnazes, among others--through Bob's pre-race routines through Bob pinning race bibs on his grandchildren, this wasn't just a story of Bob Anderson's running. This was running's story.
This was the story of everyone who ever donned a pair of running shoes, set themselves a goal, and headed out the door ... and then kept doing it for months, and years, and decades, and a lifetime. If it's not the same story all us runners have lived, it's the story we've felt--deep in our bones, when we look back at our lifetimes as runners.
I didn't know Bob and Bob didn't know me back when I was a 14-year-old freshman at La Canada High School in the mid-1970's, but I never would have lasted my first summer of training without Runner's World. When my feet hurt so badly after 3 weeks of practice that I thought I'd never run again, I turned to the Runner's World shoe issue to find a pair that would allow me to pursue the only sport I was physically set to play (I was 5 feet, 100 pounds entering high school). Armed with some green Adidas SL 76's, I returned to the roads--and even when I added a foot and 70 pounds to my frame, I never looked back.
Over the years, we all create challenges for ourselves; it's the way we keep looking forward and keep feeding the passion that carries us out the door. A LONG RUN shares the amazing challenge Bob set for himself, but if you don't see yourself in Bob--in his unbreakable optimism, in his frustration at setbacks, in his never-wavering commitment to soldier on no matter the obstacles, in his attention to race-day minutia, and, ultimately, in the way that running has become an inseparable part of what makes Bob Bob, as much as the legs that carry him--then watch anyway, because if you run enough miles and enough races for enough years, you WILL see yourself. Shot beautifully against picturesque backdrops that will have you rearranging your race schedule to include some of the events from Bob's challenge, this is a film you won't want to miss.
Seriously, I can't recommend it enough.
(Pete Magill is a senior writer and columnist for Running Times magazine, the oldest American to break 15 minutes for 5K, with a 14:45 at age 49, and co-author of the soon-to-be released book Build Your Running Body)
A Wonderful Story
A Long Run is the wonderful story of Bob Anderson's love of running. From his creation of Runners World magazine to todays Double Road Race events, Anderson has realized his lofty goal of bringing the joy of running to a wide audience. Luckily, both runners and non- runners alike can share this experience through his movie.
(Megan Williams, Producer Boston www.bostonmarathonfilm.com)
---
Bob Anderson's recent BIG Idea was more personal: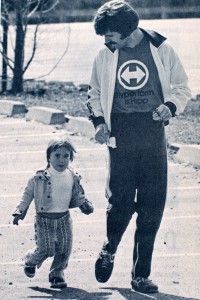 I've always known Bob Anderson as a man of Big Ideas, one with a knack for making these dreams come true. He conceived a little magazine called Distance Running News, which grew into the biggest one, Runner's World. He created a book division that published some of the sport's best-selling titles. He spun off 24-Hour Relays, Fun-Runs and Corporate Cups at a time when running hadn't yet boomed – and his efforts helped it do so.
This all happened before Bob turned 30, but his idea-generating didn't stop then. At more than twice that age, he dreamed up the Double Road Race – a unique 10K and 5K combo with a brief "halftime" for recovery. His recent Big Idea was more personal. To celebrate his 50th anniversary as a runner, Bob plotted a tough year-long course: 50 races, averaging better than seven minutes per mile overall, concluding the week he would turn 65.
A film crew, directed by Bob's son Michael Anderson, documented this quest. The result is "The Long Run." If I expected a simple race-by-race accounting of the 50 for 50 adventure, that would have underestimated how Bob takes a Big Idea and runs with it. The film is also a current travelogue of many and varied races and places, a history of running from the 1960s onward, a record of Runner's World's birth and growth, and a collection of interviews with key players to typical folks. It's a film a runner can enjoy on any or all of these levels.
(Joe Henderson was the editor of Runner's World during the 1970s and wrote for the magazine for more than 30 years.)
---
A Long Run is an excellent movie:
I finally got a chance to watch A Long Run a few days ago and then watched it with my wife again tonight. Wasn't sure what to expect but it far exceeded expectations and thought it was excellent. Very proud to know you Bob, and that is an understatement.
(Roger Wright is featured in the film. Just a few years ago he weighed over 300 pounds. He dropped 140 pounds and then ran the Boston Marathon and now is running marathons regularly. His story is featured in A Long Run.)

---
It's akin to averaging 5:24/mile pace at age thirty:
One of my good friends is Bob Anderson, the founder of Runner's World. Bob has been running and racing for fifty-two years. His best racing years took place after he had sold Runner's World in 1985. He simply had more time to train. I've known Bob since 1973 and even in the years he was working overtime to make his magazine successful he still showed up and raced, and if he raced it was all out every time. It was the only way he knew how.
In 2012 at age sixty-four Bob celebrated his fiftieth year of running by setting up a challenge. His rule was simple: run fifty races totaling 350 miles and average under 7:00 pace overall. To put this in perspective, it's akin to averaging 5:24 pace at age thirty. Bob ran a smorgasbord of distances, racing 5k one weekend, a half marathon the next, followed by a ten miler after that. The gotcha was that he had to average seven miles per race. A 5k one weekend meant a ten miler or half marathon the next.
His son Michael and Bob had wanted to make a running film for years. They decided that Bob's 50 race challenge would be the center piece of A Long Run. The film covers so much ground. It is one of the best running films I have seen.
He asked me to help advise him during the challenge. I was either phoning, emailing, or meeting him in person every week. To me the whole challenge was one of balancing and managing races, the distance and pace. My theory: if you don't need to run all out to stay under 7:00 pace, then don't do it. Keep a little in reserve because you would need all you could muster just to get through the fifty races.
(Rich Stiller has been running and racing since 1968. He is also a writer and has published several books.)