A Long Run

a film by Michael Anderson - Narrated by Sean Astin



This film follows Bob Anderson's journey. Bob started Runner's World magazine when he was 17 year-old with $100 and built it into a major magazine before selling it in 1984. In 2012 Bob started this 50 race challenge.
Y

ou are invited to attend the World Premiere of

A Long Run

Friday December 20, 2013 in Pleasanton

, California

at the Firehouse Art Center Theater starting at 7:30pm. Space is limited.

An inspirational life long journey that takes you across the United States and introduces you to some amazing runners.

Bob Anderson started Runner's World magazine when he was 17 with $100. 47 years later he started his 50 race challenge...

One year - 50 races - 350 miles

Goal - Under 7 min/mile pace at 64 years old

Did he reach his goal?

Some of the runners besides Bob Anderson featured in the film include: Bill Rodgers, Paula Radcliffe, Joe Henderson, George Hirsch, Rich Benyo, Amol Sexena, JoAnn Dahlkoetter, Rich Stiller, Hans Schmid, JT Service, Pina Family, Wall Family, Billy Mills, Gerry Lindgren, Dave Zimmerman, Dean Karnazes, and more...

Tickets may be purchased for $10 or $5 for kids 13 and under.

If you have received a Complimentary Ticket Voucher code, please click HERE.

To Purchase Tickets please click HERE.


For additional information contact Bob Anderson at bob@alongrun.com


Boston Marathon Training Run
Posted Saturday, February 16th, 2013
Michael and I ran 23 Miles this Morning
My son Michael and I are running the Boston Marathon April 15th. I have not run a marathon since 1983...
Read Diary

I did it...last race was my fastest
Posted Saturday, December 29th, 2012
Finished The Moody Two this morning...race number 50!
I did it. I have finished racing 350.8 miles and have averaged 6:59/mile for the year. My last race this...
Read Diary


It's Not Over Until It is Over
Posted Wednesday, December 26th, 2012
The Double was even more than I thought it would be
I have been waiting to write this until I made a final decision about what I want to do. I...
Read Diary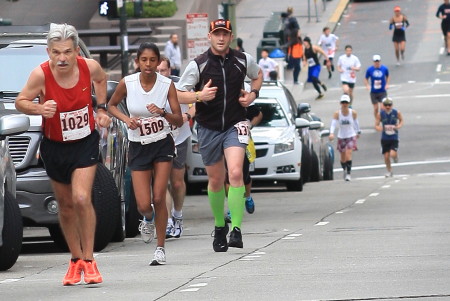 "A Long Run" is a full-length (two hours) documentary movie. This film took two years to shoot and edit. It is being premiered December 20, 2013 in Pleasanton California at the Firehouse Art Center Theater at 7:30pm.

The story follows Bob Anderson, founder of Runner's World, as he celebrates 50 years of running by racing 50 races in 2012. His goal was to average under 7 minutes per mile for at least 350 miles.
"The challenge itself is not that amazing. However, to race 5k to the half marathon each weekend at an average pace of under 7 minutes per mile makes it more of a challenge. Equally challening is that 64-year-old Bob Anderson works full time as the CEO and chief photographer of the Ujena Swimwear Company he founded in 1984," says director Michael Anderson.
---
The Challenge Bob is Attempting:
During 2012 Bob is racing 350 miles for 50 races between 2 miles
and the half marathon. His goal is to average under 7
min/mile. This is like someone 30 averaging 5:25 min/mile.
---
Bob Anderson started running in Feb 1962 and ran his first race in May 1962. Within a year he ran a 2:08.5 half mile. At age 17 Bob started Runner's World magazine and published it for 18 years. He and his team had built the circulation to just under 500,000 before selling it to Rodale Press in 1984. With just $100 he earned from babysitting and mowing lawns he built a $25 million dollar company without borrowing any money or having outside investors.
While publishing Runner's World he did not run as much as he wanted too. His nearly 350 employees took up a lot of time and he mostly ran on weekends. He had started his magazine because he loved running! But his magazine really help spring the running boom. He was able to concentate on his own running after the sale. At age 53 he ran the Cal Ten in 59:17 and more recently at age 61 he ran 1:26:26 for the half marathon. He has published over 50 books about running. He started the UjENA FIT Club in August, 2011 and added Best Road Races in December of that year. He feels both are going to help inspire and inform a lot of people about running and fitness.
"We have already faced some tough challenges in the first weeks of my 50 race challenge. Two weeks before the start, I tripped on a run and it took over 100 stitches by a plastic surgeon to sew me up. The scar above my right eye will never let me forget that moment," says Bob Anderson. "But actually from a running stand point my beat up knee caused the most problems. I could not totally bend it fully for weeks."
"Bob's first race of fifty was New Years Day just two weeks after the fall. He could not hardly bend his leg but he knew that he needed to complete race number one. A 5k race put on by the DSE Club in San Francisco. I have never seen Bob start out so slowly. He was dragging his leg," says Catherine Cross, Bob's wife and co-producer of the movie.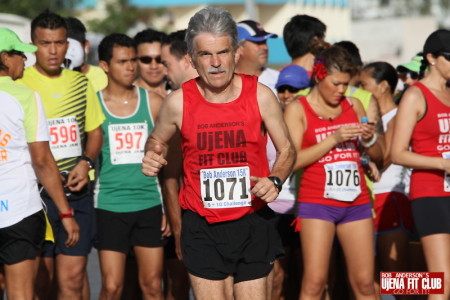 ---
(Left) Adding to the challenge is that Bob works full time as the CEO of the Ujena swimwear company. He is also Ujena's chief photographer. Before racing the Bob Anderson 15k Challenge March 3rd, he had taken over 27,000 images of Ujena swimwear over five days. Photo by Steve Manente for Ujena Fit Club.
---
The focus of the film is on Bob and his journey but it is also about runners he knows or well meet along the way. "Our goal is to make a running film that will inspire you to get out the door. Inspire you to be a better runner. Inspire you to get others out on the road. If you start lacing up your running shoes after watching our film, then we produced the film we wanted," says director Michael Anderson, Bob's son and runner.
"I know my dad can pull this off. When he puts his mind to something he makes it works. Running has always been something our family does. I started running at the weekly Fun Runs my dad started in 1972. I have seen photos of me in my father's arms as he was giving out certificates to finishers. He has so many stories to tell. He knows so much about running. I an excied to be part of a "A Long Run," says daughter Lisa Anderson-Wall.
"I only started running a few years ago. I damaged my knee playing professional soccer and I thought I could not run. But how could I be married to Lisa and be the father of Bob's grandkids and not be a runner. I gave it a try and could not run a mile at first. But I stayed with it and it worked. I not only love running but also racing. I have already run two half marathons, my best being 1:27. Bob knows so much about running and I am looking forward in being a part of "A Long Run," says son-in-law Justin Wall.
---
---
Filming started December 28, 2011 on Bob's 64th birthday run with his family in San Francisco. "What better way to celebrate your 64th birthday by running with your family. That's what we did...bum knee and all. It was a beautiful morning to run along the SF Bay," says Bob Anderson.
Filming continued at all of the 50 races during 2012 plus additional footage was shot during the week. Many runners along the way will be included in this film. Some of the people featured in the film include Bill Rodgers, Paula Radcliffe, Joe Henderson, Rich Benyo, Geroge Hirsch, Gerry Lindgren, Billy Mills, Christine Kennedy, Jose Pina and family, Sean Astin, Roger Wright, John Young, Katie McGuire, Hans Schmid, and many more.
"A Long Run" is an Around Town Productions film with funding from the Ujena company.
---
(Left) "There are so many great spots in this world to run. There is no better place than on the pier near where the Cable Cars turn around in San Francisco," says Bob. The day before the Waterfront 5k, the "A Long Run" film crew covered Bob's final training run before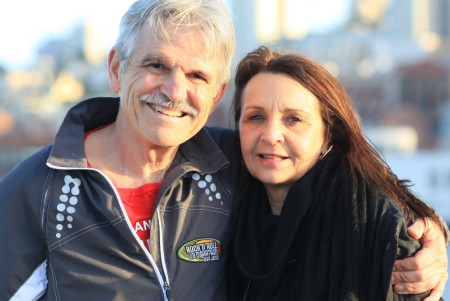 the race. He was testing out his hamstring to make sure he would be able to finish the next day. Photo by Catherine Cross
(Right - Bob and Catherine shooting in San Francisco)
---
Behind the Scenes link: A Long Run Diaries
Link to Bob's 50 Races: Race Map

Copyright 2012
UjENA Swimwear
·
Site Map
·
Feedback
·
Tell A Friend
·
All About the Program
·
Our Mission
Nominate a Race
·
Leaderboard
·
UjENA 5K+10K+Bob Anderson 15K Challenge
·
UjENA Jam
·
UjENA Network